請至文末下載 PDF 檔,閱讀完整報告內容。
Low end has been hit hard, but conspicuous consumption and investment value should support the luxury watch industry.
Executive summary
Five years after the launch of Apple watch, our thesis on the impact of new technology on the Swiss watch industry is unchanged. We continue to see a material smartwatch threat for lower-priced watches over the next five years but believe the luxury watches segment will be largely unaffected. It is clear that Swiss watches are hurt by smartwatch competition on the low-end side with 23% drop in exports of watches priced below USD 1,000 at retail from 2015 to 2019. For luxury watches, representing most of watch sales for Richemont and Swatch, the negative impact is not evident in our view. Our analysis shows that—excluding Chinese graft demand that exited the market mid-2010, pre-owned, and grey market channels—luxury watch demand could have had growth similar to the rest of the luxury industry in the last five years. Further, we don't think smartwatches could match the "status symbol" value of a luxury watch given their substantially lower price points. Even though increasing penetration and daily usage of smartwatches could reduce the potential addressable market for luxury watches to a little over 300 million consumers in 10 years' time from 340 million currently, with only 5 million luxury watches sold annually and given their pricing power and potential for consumers to trade up as their incomes rise, the market should still provide ample growth opportunities over the next decade. Finally, conspicuous and investment value of luxury watches protected them from disruptive technology in the past, and we expect them to do so in the future.
Key Takeaways
×We don't believe smartwatches could reach smartphone-like ubiquity, but ownership by luxury buyers could increase to over 50% by 2029, versus 24% currently, likely followed by an increase in engagement.
×Consensus is skeptical about luxury watches, as estimates for Swatch imply flat to low-single-digit growth in its luxury ranges till 2023, versus our estimates of 3.8% growth for Swatch's luxury ranges and 4.7% for Richemont's watch businesses.
×We expect Richemont's watch brands to outperform the 3%-4% luxury watch industry growth thanks to a cleaner inventory situation in the wholesale channels compared with peers.
×Richemont is the luxury watch market's best play, trading at a 30% discount to our fair value estimate.

Smartwatches Are Hurting the Swiss Watch Industry at Lower Price Points, Luxury Watches So Far Unharmed
Although some versions of computerized watches have been emerging since the late 1990s, the modern wave of smartwatches and investor concerns about their disrupting effect on the Swiss watch industry started in 2013 with the launch of Pebble watch and accelerated in 2015 with the launch of Apple watch. While the smartwatch industry is still in its early days, we believe it is time to revisit our initial assumptions on how this technology change is impacting and could impact the Swiss watch industry and Richemont's, Swatch's, and LVMH's watch businesses in the future.
There is evidence of smartwatches hurting the Swiss watch industry on the low-end side. We have analyzed Swiss watch exports priced below CHF 200 (USD 400 at retail value) which are directly comparable with smartwatches and their USD 220 average price according to Gartner. These exports have declined by 7 million pieces or 38% since 2015, the year that Apple watch was launched (Exhibit 1). Further, according to Swatch group, its Swatch brand lost more than half of its CHF 1 billion peak revenue, implying consumers don't seem to value the Swiss-made label in the lower-priced category as much. Swiss watches priced between CHF 200 and CHF 500 at export (below USD 1,000 at retail value) fared better but still were down 14% in value terms between 2015 and 2019.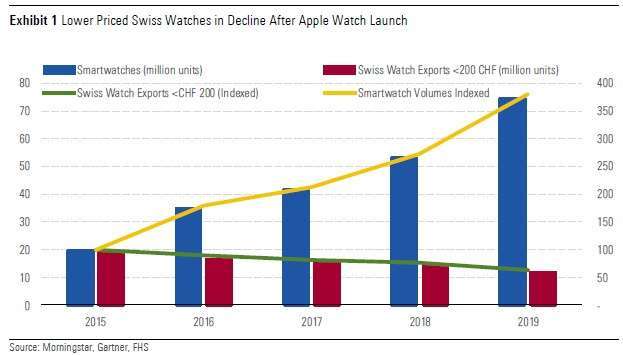 Given that Swatch, Richemont, and the watch divisions of LVMH and Hermes generate the bulk of their revenue from watches priced over USD 1,000 (Exhibit 2), it is critical to assess the risk of technological disruption to the luxury watch segment currently and down the road (we define luxury watches as those retailing at price points above USD 1,000).